Hello, dear-anyone-who-is-reading-this-right-now!
Today I'd like to share some planner-related photos that I've posted on Instagram months ago. Some time last year, I was bitten by the planner bug; which if you don't know, is a craze related to planning, organization, agenda, Filofax, Kikki K, etc. etc. There's an extensive community of people who share this passion for planning on Youtube, Facebook, and Instagram; from all around the world.
Even Malaysia has its own community called Planner Addict Malaysia, and I'm a member of this community. Well, I don't exactly call myself an active member since I've never posted anything on its Facebook page -- let alone join its whatsapp group, or attend the gatherings. But I'm still in the Facebook group, okay? I mean, it has to be considered as some sort of a membership right? :p I would just check (ahem, stalk) their posts on the group's Facebook page and their instagram accounts, and admire everything that they have done on their planners.
It is so easy to get hooked and be addicted to the planner world and the planner community! Especially for someone who plans all the time (check!), constantly have lists for everything (check!), and for those who love arts and crafts (duh, check!).

I've always been the type of girl who makes lists for everything (by everything, I mean every single thing), and constantly write to-do lists. But I've always written those lists on scrap papers, notebooks, post-it notes, one of my handmade notebooks, and tissue papers; but never on a fancy planner. I mean, there were a few periods in my life that I've owned planners, like the proper ones -- but they were black, boring planners from corporate offices. Even though they were boring, they had at least get me accustomed to the basis of how to use a planner.
I still remember the first time my dad taught me how to use a planner -- I was 9. But he only taught me how to use the weekly pages, the ones that has hourly-schedule on it. The only thing I could think of to write on those weekly pages was: a) what time would Doraemon be on air on that day, and b) homework. Lol, serious 9-year-old's agendas.

Over time, I've improvised my use of planner and include a list of things to study, things to do during school break, beauty tips, baking recipes, and so on -- but still on corporate planners my dad would give me every year. When I started university however, I started to get bored of those plain planners, so I decided to make my own notebook; something that I filled with to-do lists, to-buy lists, assignments, goals, etc. But they never had a calendar at all! No monthly pages, no weekly pages -- just a bunch of to-do lists that were not consistent in dates. I guess this is why I've never been organized, sigh.
So, when I discovered about the fun side of the planner world, I was just ecstatic and constantly hooked! Never in my life have I thought that planning can be a perfect balance of organized and fun. They are even customizable and can be treated like a functional art journal, if it's something that you'd prefer. I bought my first adult planner some time from the middle to the end of last year (gosh, I just can't remember what month, sorry), and it is a beautiful, black personal sized planner with a patent faux crocodile-skin cover. I fell in love with the planner, along with the whole new planner/planning system that I've learned off of Youtube and Instagram.
Here are a few photos of what I've used my black planner: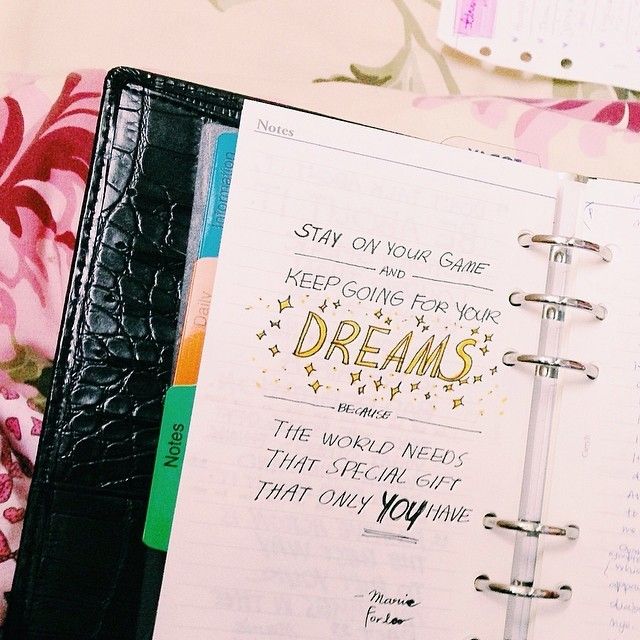 This was that one time when I had a sudden urge to cut these tiny flags -- one by one.
Then some time this year, I decided to have an upgrade and bought a medium sized Kikki K planner, in lilac because I've fallen in love with it and been eyeing on it for quite some time. When it arrived and I first held it on my hand, it was love at first sight. It's just so beautiful and perfect for me, and I still feel the same way until today. :')
Here are photos of my lilac Kikki K. It has tiny gold diamond shapes all over the cover which I love so much! And also gold rings inside, but I haven't uploaded the interior of this planner on Instagram yet. Some other time, perhaps?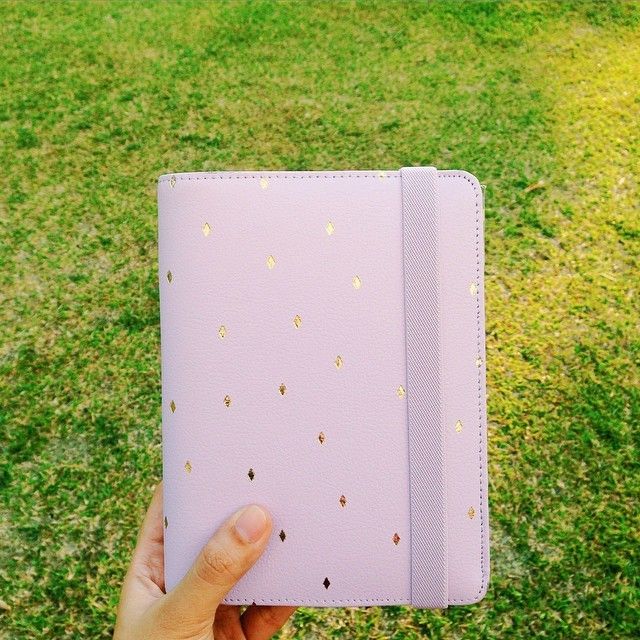 Of course I had to take multiple photos of it on the same day, arrange them in a collage, and upload to Instagram, just after I uploaded the previous photo, on the same day.
How embarrassing, but that's okay :')
Kikki K featuring #Girlboss; two of my favourite things.
And the most fun part of having a ring binder planner is that you get to fully customize everything in it! The inserts, dividers, page markers -- everything! Here is a photo of my divider-making process. I painted them, wrote on them, doodled on them, and wrote a bunch of quotes on them -- and cut them, laminated them, cut them again, punched holes in them -- and tadah my own set of custom dividers. Now you get what I mean when I say this planner business is addictive, right?
(P/s: Yes they have to be in pink)
(Gosh, why is this such a long post?! I didn't even realize that I've written this much! This is by far, the longest post I've ever written in here lol, this is what happens when you're obsessed with something, huh?)
Talk to you soon! Bye!