So my dad's birthday was on the 1st of June, which is yesterday. Every year I would make him a handmade card, with papers and other materials that I could get my hands on. I also make handmade cards for my mom's birthday, my siblings' birthdays, Mother's & Father's Day, and all other occasions every year; without failing. (Okay, I may have amplified the "without failing" part a little. Of course, sometimes I do forget to make them and I would just buy the readymade ones instead. :p).
But recently, when I was about to make a handmade card for dad's birthday using the traditional method that I have always been using, a friend sort of sparked this genius idea for me : to make a card using Photoshop. I was like, why haven't I thought of that? That is an absolutely genius idea! (Please note that I had never done any greeting cards digitally before this. Don't ask me why). So I decided to combine two methods to make the card -- 50% using Photoshop & 50% using traditional-handmade method.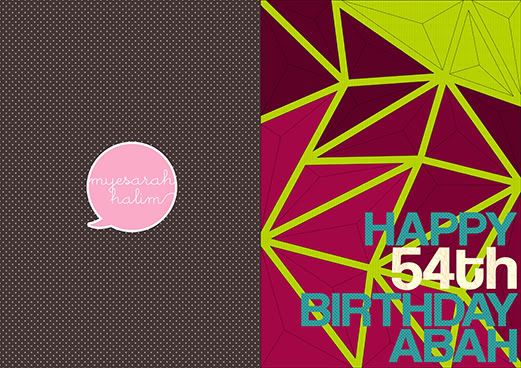 Birthday Card for Abah; 1 June 2011
(I call my dad Abah)
This is the front cover (the right side) and the back page (the left side) of the card. I am actually very pleased with the outcome. I had a blast making this card using Photoshop! I should use this method more often.
I could actually make money out of this! Hmm.
You're probably wondering "So which part of the card that uses the traditional-handmade method?" Well that would be used for the inside of this card! I would do pop-ups and such. But they're not ready yet. Maybe I'll post the finished version later. Mayyyyybe. :p